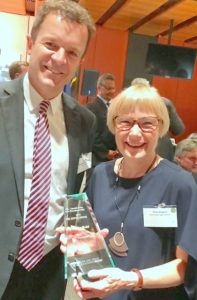 Prue Gregory, a community lawyer providing free legal assistance for people who have experienced child abuse, has been awarded the 2017 Justice Medal at the Justice Awards hosted by the Law and Justice Foundation of NSW at Parliament House. Presented by Attorney General Mark Speakman, the prestigious Justice Medal is judged by an independent panel and presented annually "to an individual who has demonstrated OUTSTANDING ACHIEVEMENT in improving access to justice in NSW, particularly for socially and economically disadvantaged people. This may have been demonstrated in a range of activities over an extended period, or work over a shorter period but of exceptional impact."
This year Prue was one of seven outstanding nominees. The Awards night program said the following about Prue:
Prue Gregory is nominated for her work as principal solicitor of knowmore, a legal assistance service for people engaging with the Royal Commission into Institutional Response to Child Sexual Abuse.
Since 2013, Prue has led a team of lawyers, social workers and Aboriginal and Torres Strait Islander engagement advisers to provide trauma informed and culturally safe services to knowmore's clients.  Prue has also led an extensive program of community engagement and outreach across NSW and led knowmore's prison outreach.
A pioneer of providing legal assistance services to disadvantaged and marginalised people, Prue was instrumental in the establishment of a drop-in clinic on Monday evenings at St John's Church at Darlinghurst in 1995. Established in response to the issues relating to homeless people and their interaction with the law, this Legal Counselling and Referral Centre (LCRC) provided legal assistance to refugees, sex workers and former inmates among others.
In early 2004, Prue secured support from Minter Ellison to establish two LCRCs, one in Claymore and another in Macquarie Fields, successfully transferring the model from Darlinghurst to large public housing estates. From 2009 to 2013, Prue was principal solicitor at Macarthur Legal Centre in Campbelltown.
In December 2016, Prue was appointed by the Prime Minister to the independent Advisory Council on Redress which will provide expert advice to the government on the design and implementation of the Commonwealth redress scheme following the Royal Commission.
"We welcome recognition of Prue's work and the work of knowmore in this way" said Mr Arrage, Chief Executive Officer of NACLC.
"knowmore has been at the frontline of ensuring that thousands of survivors of child sexual abuse in Australian institutions have been able to come forward and tell their stories, many for the first time" he added.
"There is no question that Prue's work has changed the lives of many extremely vulnerable people in prisons and communities across Australia" said Warren Strange, Executive Officer of knowmore.
"Prue has lead a national team of lawyers, social workers and Aboriginal & Torres Strait Islander engagement advisors to provide trauma-informed and culturally safe services thousands of survivors of child sexual abuse" he said.
"Prue's work at knowmore is part of her long career in delivering legal services to vulnerable people, including many years as Principal Lawyer of the MacArthur Legal Centre" added Mr Strange.
"We congratulate Prue and the knowmore team who will continue to provide support to survivors of child sexual abuse, and ensure survivors are aware of their rights to seek redress. We also congratulate the other CLCs nominated across the award categories and acknowledge their outstanding contribution to ensuring access to justice for people across New South Wales every day" concluded Mr Arrage.
Law and Justice Foundation Media Release
NACLC Media Release